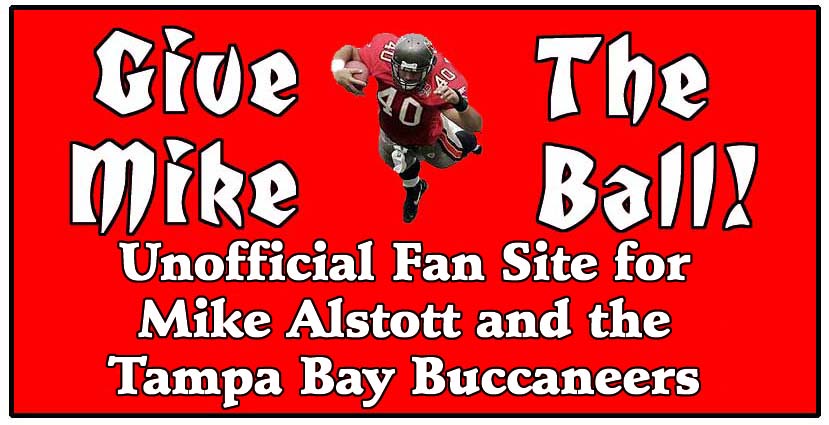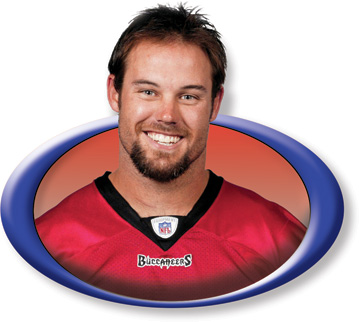 620 WDAE article
St Pete Times Article
TBO.com article
Buccaneers.com
Tampa Bay's 10.com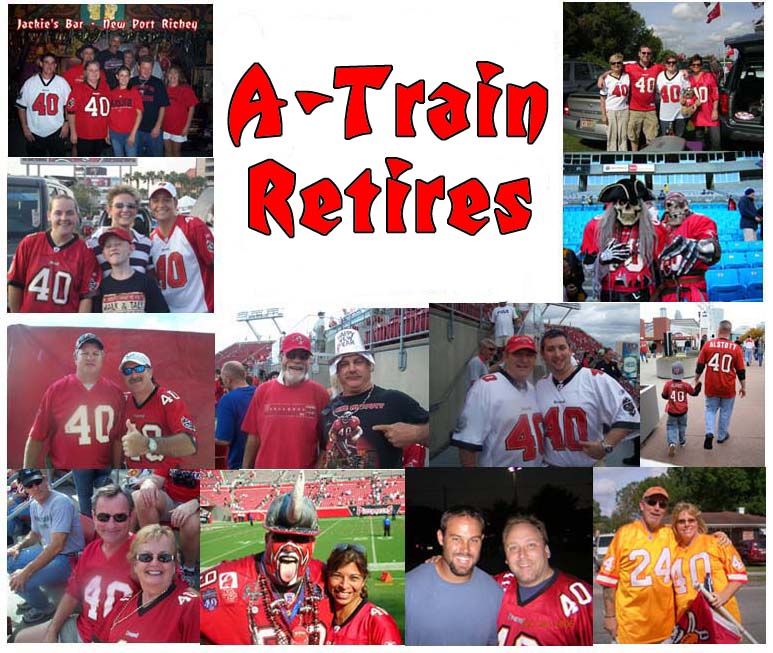 Wednesday, January 23rd, 2008
As a huge Mike Alstott fan, the news
of his retirement is a mixed blessing. We, his
fans, will miss the hits and broken tackles
and heart and leadership of the A-Train.
But we must take confort in the fact that
he walks away from the field with his
health, his legacy, and his fanbase intact. He leaves
the playing of the game with nothing left to
prove in the eyes of those who are his true fans.
We still have the memories, the stories, and
the videos to remind us.
We wish Mike and his family all the best!
This site
will continue to celebrate the past, present
and future of the greatest running fullback,
greatest teammate, and greatest Buccaneer
in the history of the National Football League.


Post a message for Mike!



Click here for our My Space "Give Mike The Ball!"













Website Mission Statement / Original Petition / E-Mail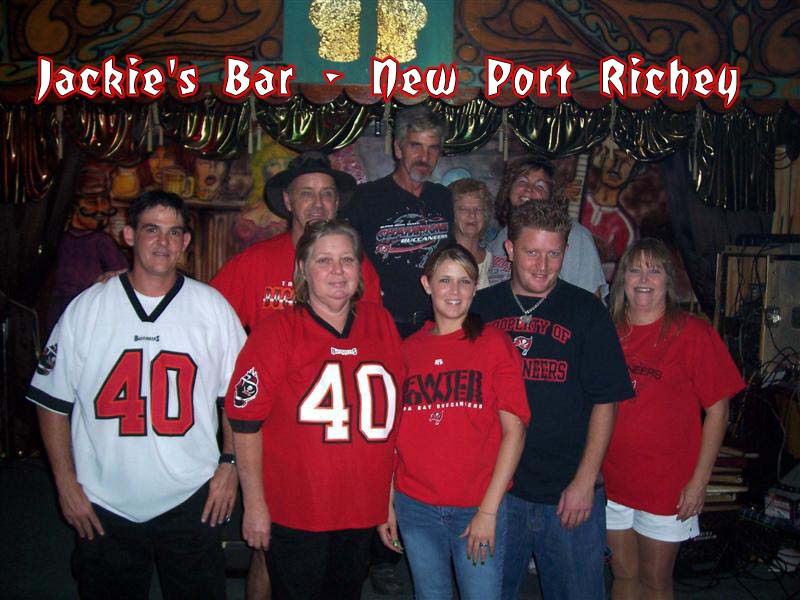 Now you and your family, co-workers, or crew can post a group pic
with your #40 jersey and Buc gear! Let's show the A-Train that
no matter what happens in the future, he is and always will be our
favorite Buccaneer. You can even include as much text as you want!
Click here to check it out!

I NEVER watched football until Mike Alstott's rookie year. My husband made me watch the man play because he knew I would appreciate his work ethic. And, I did and I became an instant Mike Alstott "fanatical" fan. He has so much drive, he never stops trying and even when it looks like a play is over his legs are still going and he's still reaching out to get one more inch closer to the goal line. He has been a great role model and a community asset. I hope the Bucs make a place for him in their organization. Mike, you rock! I wish you the best in all you do! Cindy Davis

Mike,
You are an awesome football player. As a mother and grandmother, I can understand why your mom and dad were always on the sidelines and the stands cheering you on. You will be missed by all your fans. My very goodfriend got to meet you and tour the new facility before she passed away. Thank you for taking the time to talk to her, hug her, and give a ray of sunshine in the last months of her life before she succumbed to cancer. She never stopped talking about how she enjoyed meeting you.You gave her a #1 Fan shirt, she was truly your biggest fan.Wish you the very best in the future and may God bless you and your family. I'll remember you each time I see the A-Train whistle
on my Buccaneer shelf at home.Thanks again! Annette

Our computer background is of you going over the top against the Redskins.
Love the way you play football! Thanks for a great career. Barry and Betsy

The A Train will forever be Remembered in Tampa Bay.
Long after Gruden and his Grudge have been Forgotten!
Thanks for all the great memories, Mike
GO - 40
GO BUCS
Please GO Gruden
Phil

Thanks for the memories, Mike. Enjoy your retirement with your family!! You
and them deserve it!!
Bob Alwood
Mike, Thanks for all your hard work and dedication to the Tampa Bay franchise. You've left us fans with the memories of your achievements that we'll take with us forever. Best of luck to you and your family with all the future may bring! Thank you, Bob Dikman
I have always been a fan of the defensive side of a team. I always purchase defensive players Jerseys. But Mike is the only Offensive player whose Jersey I will wear. His toughness and his heart is the stuff that creates storybook legends. I am proud to have been able to watch him play football. No matter what anyone says, he will go down as one of the best players I have ever seen play this game. I hope that you and your family are able to work through this incredibly tough time.
Thanks Mike, it won't be the same without you. Joseph Cannavina
As much as you will miss hearing the fans call your name; I personally will miss yelling "Run Mike Run" Thanks for the good times and the great football. Take care of yourself. Betty Fisher

Today you made the biggest and most important play of your career. I felt your pain, but I also felt your pride as a player. You have proved to be a man with the highest integrity who gave us clean, honest, hard-fought games every time you played. Your accomplishments will probably never be duplicated by any other Buccaneer and I know there will never be another Buccaneer who will be as loved or admired as you. It will not be the same without you on the field. God Bless, Mike. God Bless. Barbara H.

I feel bad for Mike we have lost out on so much playing time because Gruden not playing you I hope this was done not because of injury but out of holding out until we get rid of Gruden then get a coach who will get you in the game I was mad from day one about Gruden calling you Mark Alstott he didn't his homework basically benching an All Pro back for the last 4-5 years is crazy if you are injured I do wish you a speedy recovery I will see you at the Devil Rays game stay cool your HUGE fan Joe the D-Ray/Buc fan
Hi Mike,
Thank you for all the wonderful memories!
You are the quintessential Buccaneer! We love you and wish only the very best for you and your lovely family! Please get better and make more memories!!
Elizabeth & Jeff Stacy
HI MIKE,
The National football league is going to miss the most high class man on and off the field in the NFL.I willPray for you to get will soon I will always be your fan GOD BLESS.
CHRIS HARRELL TAMPA

MIKE U ARE AND WILL BE THE BEST FULLBACK EVER THANKS FOR GIVIG THE GAME OF FOOTBALL A GOOD NAME AND THANKS FOR ALL THE GREAT GAMES YOUR BIGGEST FAN - Shane

My prayers are with you, players like you are hard to find, you play with heart. And that made you special, I felt your heart as you spoke in you new conferance, and I cried. We love you and we will miss you. Your the best. I believe in Miracles and maybe there is one out there for you. or maybe this is gods way of saying its time to slow down. You do so much with the kids and you give so much of yourself. My prayers are with you.
love you buc

thanks mike..... i enjoyed watching since your rookie season.... you were the best fullback, and athlete.... i loved watching you run over people! hope maybe you wil work in the bucs organization like shelton does now? chris

nooooooooooooooooooooooo!!!your my hero my inspiration on the field ( i..m a fullback,too)come on!! Greetz
Reen -GO #40


Mike,
I have enjoyed watching you play football and I have also enjoyed getting to meet you off the field as part of several business ventures. I wish you nothing but the best and good health to you and your family!
Court

So sorry to hear the sad news, Mike. You will be TERRIBLY missed by all of us. This is a sad sad day not only for you, but for Tampa Bay and all football fans. Our hearts are heavy, not much that words can say.
You are in our thoughts and prayers.
PS: Thanking God you have your health as well as a beautiful family.
Best Wishes to you and yours -
THANK YOU FOR ALL THE WONDERFUL TIMES.
Carolyn Schear

Mike: I never enjoy watching football more than I do when you are running with the ball. For the life of me I cannot understand why the Bucs (Gruden) elected to underutilize you as much as he has over these past few years. It is so obvious that on the rare occasions Gruden would call #40 you made things happen; but then they would simply stop giving you the ball. Truly mind-boggling!!
You have been an amazing running fullback and an overall great football player, and you have had a great career. If you don't come back, thanks for the great runs and great memories!! If you do come back, even though I am a die-hard Bucs fan, maybe you should go to another team where the coach appreciates you and will give you the ball and let you do your thing! Best of Luck Mike

Mikey! Please take care of your health and your family. You know what's best for both. No matter what, thank you for the great memories. I was one of the 25-30,000 people watching you, Derrick and Warren , clad in orange, as you issued in a whole new era of Buc Football. Rest up. We'd love to see you come back through that tunnel again, but if not, I hope you choose to make T-town your home. Thanks, Kenny

Never will there be another player with so much passion.Thank you for the best memories concerning the Buccaneers.Not to be forgotten.
Thank you,
Troy Ippolito

We feel your pain. The A-Train whistles and horns will be blowing for you! We love watching you play, but do what is best for yourself and your family. You are the fan favorite and myself and my husband were part of the many that chanted "MIKEY" many times during the games. I haven't had a chance to read all the news yet, but I will hope that the football Gods will bless us with your presence on the field again. Until then know that you have a special place in all the hearts of Buc Fans everywhere.
Donna Carter

Mike - you are the best!!! One time I was at a game with my daughter (who was about 14 at the time). She had on her Alstott jersey and we were waiting for the players to come out after the game. She wanted her jersey signed. We were on one side of and you were coming down the other. Everyone was yelling for you to sign their items. You passed by us, as you were going down the other side of the line up of people. You got about 15 feet away from us and turned around and looked at my daughter. Somehow you heard her saying with her small little voice "Please Mike". You came all the way back signed her jersey with a big smile on your face. Then you had to do our side too. As a mother I will never forget that!! She glowed for weeks and showed everyone her jersey. She is now a 22 year old Alstott fan. She has her jersey framed and hanging in her bedroom. You are a gem. Always entertaining, always working hard, never giving up and a fine man!! We, the Buc fans are lucky to have you. I wish you all the best
Linda in Venice

Often imitated never duplicated - The REAL A-Train. I wish you the Irish blessing (even though you didn't play for them). Do what is best for your soul..
Denny Donovan

G'day Mike,
I hope you stay visual at 1 Buc Palace & RJ stadium (like "Q") ..........I have sent # 40
jerseys to all my rels Down Under.....they have your posters and I send the Pewter Report
down there monthly. They will all be upset but happy most importantly that your not a cripple !
Mate in your R & R ( in Feb if we're not in the Superbowl ) may I recommend a trip to the Great Barrier Reef , the Baramundi is one of the most sweetest eating fish I've ever tasted.
God Bless you and your lovely family.
Aussi D

we love you mike!!! take care of yourself. love yvonne nowak...an
A-Train FAN!

Hey Mike! I think you know how important you have been to all of us. Thank-You for being the kind of player, teammate, friend, and man that emmulates "Role Model" My mom and I will miss you out there on the playing field, but we know you are so blessed to have bone what you have done. YOU ROCK!!Have a SUPER next career! Deb+Pat

A-TRAIN...Legs of steel, whatever you prefer...
I love you man:) You are my little brother from another mother. You are the reason I got back into the game and the reason I became a Bucs fan. It only took me 30 years! Take Care of that neck...Do what the docs say...We support you whatever happens in your future. Keep Smiling.
Charity
Sarasota, FL

we love you Mike! We hope that you have a good retirement and that you have many more years of enjoyment here in Tampa Bay. Words alone can not describe how much we will miss you. love from the briggs family!

Mike--Do what's best for your health and for your family. Thanks for the years of unforgettable memories.
Dave Samuels

Mike,
As a proud member of the United States Armed Forces, I want to wish you good
luck in the future. I will always remember your hard hitting and great
running. Take care and remeber there is more to life then knocking defencive
players on there ASSES!!
Brad,
United States Coast Guard
PSU307

Mike,
I met you several years ago at your youth football camp. I was very impressed how easy it was to talk to you. My entire family has been huge fans of yours. Whatever the injury is, we all hope you make the best decision for you and your family. I had to give football up in my freshman year of college due to a neck injury so I do understand how scary this can be for you and how hard it is to walk away from the game. However, nothing is worth ending up in a wheelchair for the rest of your life. I hope you decide to coach at the pro level if you can't come back. I believe you have so much to offer the many misguided young players coming out of college today. We will never forget the many memories of you on the field. You have always been a GREAT ROLL MODEL. Maybe we will never see you on the field again. But we could see you walking the sidelines as the Bucs Head Coach one day. Thanks for all the memories and thanks for being such a class act. We will keep you and your family in our prayers.
Coach 5532

Mike-
We are all going to miss watching you run right through defenders . Your efforts made for so many great memories for all of us, I don't know that I could think of them all. Redskins '99 Playoff game, Ravens Saturday night game in 2001, multiple Packer games, Cleveland at home 2002, 1ST BUCCANEER TOUCHDOWN IN A SUPERBOWL, the list goes on and on. Thanks for giving it all that you had! The best to you and your family!
GO BUCS,
Brian Callahan and the krewe of the Pillage Inn

mike keep your head up you are the face of the bucs we all know you will be able to overcome and conquer this thank you for all the great memories keep those legs churning!! brendan tompkins

Hey Mike! A few years back (my son is 18 and he was 10 when you did this)
I took my son to a Devil Rays game and he was standing by a handrail up in
the stands and you came around the corner and he looked at me and yelled
"mom, it's Alstott"! I looked up and he was trying to tell me he wanted
your autograph and you heard him and said, "got a pen & paper"? These
people sitting right there had a store receipt and pen and the rest is
history. I have been a fan of the Bucs since they first walked on the field
and a fan of yours the first time I saw you play.Thanks so much for all you have given to the game, the Bucs and our
community. We will miss you so much. You have been my screensaver for
years during football season and you still will be on my screen. Hope you
get well soon and you will be missed!Thanks again Mike,
Vicki Graham & my son Gerrit Graham

Hi Mike: Hope you get to read this I'm a 80 year old fan and want you to know that today was a "Very Sad Day "in my life as I know it sure was for you, I live here in Sun City Center I feel you are one of the best if not the best that ever suited up,I want to wish you the best that life can offer.
Don't take any chances about playing again as you sure don't want to in any danger of your life,you have earned your place as "THE BEST" take good care . Fred Schmidt

Hello Mike
Thank you for 11 years of *GREAT* Buccaneers football!! You are the heart and soul of this team, and one of the best football players out there. You always put your heart and soul in everygame you played and I will miss that. Best wishes on your recovery, and God Bless you and your family.
Sincerely ,
Kelly from St. Pete.

WE LOVE YOU MIKE. OUR THOUGHTS AND PRAYERS ARE WITH YOU AND YOUR FAMILY
BOB & SANDI

Mike I have enjoyed watching you play over the years. My daughter and I
think you are the greatest football player there is. She once got her
picture made with you. Her husband teases her that picture is the most
important picture on their wall.
I'll be praying for you and yours.
Rev. Delbert King, retired

Dear Mike -
We watched the entire news conference today on BayNews9 - and our eyes got damp as yours did.
We love you. We appreciate your devotion to the game, and to your family. We sympathize with the pain and frustration that you are feeling. We are among the many,many fans who just love to watch you play - and we will miss that of course.
But there are times when we all have to do what is best for us, like it or not. Today you did that - with class and great sincerity and feeling. You are an outstanding athlete and a beautiful human being - you will continue to have a full life and make great contributions because of what you bring with you.
Warmest regards,
Dale and Ron

Guess I'll see you ay Ricky's
Chris Hansen

best of luck to you and your family, thanks for everything you do in the community
david altizer
Mike, So sorry to hear of your injury. Wishing you all the best . You will be missed this season. You are definitely a class act and the most exciting Buccaneer ever! I really hope you will return, but if you decide that it is best for you and your family to retire, I wish you well. The season will not be the same without you, A-Train. Your fans love you.
Sincerely, Diane Miller A lifetime Bucs (and Mike Alstott) fan from New Port Richey

Mike, Step back and take it easy, we have enjoyed watching you over the years, you have a ring and supported your community. Its now time to move on, fish for a living, Doug Creek has done it why not you. Best wishes for you and your family thanks for all the memories. Tight Linesf
Captain Chuck Fesler
Dear Mr. Alstott,
I have been a fan of yours since you first stepped foot on the field. I was 12 years old then. I have stuck with the team and your play all these years. I emulated you on the high school field and respected everything you did for the community. You were always a gentlemen and repectful person each and every time i had a chance to meet you. You are what the NFL stands for. You are what America stands for. Thank you for everything, god bless, and I hope you the best whether you return to the field or not.
A HUGE fan,
J. Purcell

Mike, When I moved to Florida from England in 1992, I had never even watched an NFL game, but in late 1995 I became a fan of the Bucs and when you started rumbling in '96 I became a fan for life. I have a "shrine" in my home devoted to the Bucs and your No. 40 jersey is framed in the middle. I will sorely miss watching you plow through would-be tacklers en route to the end zone this season. If you have played your last game for the Bucs, I hope you realize what a pleasure it has been to watch you roll. You define passion for the game and represent all that is right with the NFL. All the best you you, Mike! Cheers!
David Grindley
...and the whole Grindley Family.

Mike...THANKS, for all you have done for tampa, a real class act, Great Ball Player, Family Man, Businessman, someone for the kids to look up to. Our prayers are with you and your family.
Thanks again, BILL, Beth, Steve & Julie Roscher

I'll miss you out on the field Mike but at least you will have more time to bowl at Splitsville.
Richard Kolb
Bowling Columnist, Bowling World

Mike, you are my favorite & will truely miss you. You are a true professional & will be greatly missed. I love to watch you perform. I just hope your injury is not career ending but if it is, you will be missed & I would want you to take care of yourself for you & your beautiful family. You are a great role model for young kids of today & more are needed like you. I never liked how Gruden treated you as a player because selfishly I loved watching you carry the ball for our team. My thoughts & prayers will be with you & your family during this difficult time. I will miss you! Thank you for all that you have done for the Bucs & for Tampa Bay, Cindy DeMeritte

Mike, glad to see you're going to still be around the team this year they need that kind of passion, intensity and knowledge. You are the reason why I became a buccaneer fan, I love that hard nose, in your face football that you play, and you play it with respect for the game which you don't see that much these days. You're in our prayers and thank you for being the football player that you are on and of the field. Casey Smith

Mike, I understand your health comes first and I feel you made the right decision. I will miss watching and cheering for you this year but next year could be the best year ever! Keep your spirits high and regain that strength you've always had.
Chris Brauck

WOW , What a ride!! Mike thanks for the memories and thanks for letting us fans ride along. My brother got me an autographed picture of you in an orange workout uniform your rookie year and told me to watch this guy. I have been a fan every since. Tony Dungy did not turn the team around, you did. You brought class, integrity, sportsmanship, positive morals, ethics and personality to this team and city when we needed it the most. I have seen you at the beginning of a game go to everyone on the field and either hug them or shake their hand. One year we bought th A- train whistles, man I thought I was going to blow my lungs out one game. I was looking forward to this season and seeing you run out the tunnel, plow over defenders and score touchdowns. I will miss you, but will always have the wonderful football memories you gave us. Thanks for scoring a touchdown in the endzone where we were sitting at the SuperBowl!! That was Awesome, especially since we were surrounded by RaiderNation. You are doing the right thing. I know it is hard giving up something you have loved for ever, but as our lives evolve, so do we. Football will always be a part of your life, whether you become a coach, coordinator, a little league coach, public relations or side line fullback, just a different avenue. I would rather see you walk off the field, than carried off. We"ll see you in Canton in a couple of years.
Patty Fredrick
Mike have always enjoyed watching you run over everyone.Sometimes you just have to do what's best for you & your family.Remember football is always second to family.I will always remember you as the greatest fullback of all-time.Thanks for the great memories. Walt Miller Glen Burnie Maryland
Mike, you are & always will be the man. You are my favorite Buc of all time. I am so fortunate to have seen you in action live in the old sombrero on numerous occasions dating back to the Sam Wyche era. I know I speak for every true Buc fan out there when I say that the game won't quite be the same without # 40 running through that tunnel, plowing over linemen, kicking butt & taking names like nobody else can. We love you Mike & always will, you will live in our hearts & minds forever no matter what. You have been an amazing inspiration for a lot of people out there, across the Bay area & beyond. Don't give up, get well soon & keep your head up. Our prayers & thoughts will always be with you, Mike. God bless you, your family & your team mates. At last but not least, thanks for all of those glorious memories that will stay etched in our minds forever & ever. You have made every Buc fan very, very happy for quite some time now. We love you Mike, keep up the great work, stay positive, keep your spirits up & rock on brother!!!
Danny Leavines
Congratulations on a great career that may still continue. I'm a purdue grad and remember watching you push cars up the hill next to Ross-Ade stadium when I was younger. I've been a diehard bucs fan since the day they drafted you and will continue to be as long you're affiliated with them plus more. You have truly been a pleasure to watch all these years and their will never be another player like you. Hail Purdue! Hail Bucs!
In my first month at Purdue I received an autographed picture of you that read, "To Andy, Good Luck at Purdue" from a lady I knew that used to work in the bucs organization. It hangs on my wall til this day and will never be taken down. Thanks for the memories and hopefully there will be more to come!
Andy Drake, Indianapolis, IN

MIKE WE WISH YOU ALL THE BEST AND VERY GOOD HEALTH.THANK YOU FOR ALL YOU HAVE DONE BOTH ON TNE FIELD AND OFF, TO MAKE ALL OUR LIVES MUCH SO VERY EXCITING...MICHIGAN BILL

Mike-
Thanks for being the best thing about Tampa Bay football for so many years. You are a good man and we are fortunate to have you, Brooks, and Barber as the face of our franchise. We couldn't ask for better.
Ray Morrison & family

I would like to thank you for all the excitement you have given me over the years. Take care of yourself A-Train. Dave

I can't help but think that the management (dumb and dumber) got an early Christmas gift with the medical evaluation, they seem to be dedicated to eliminating anyone from the previous years regardless of their talent, Mikey, you will be sorely missed but thank you so much for what you have given to us and to know that you will leave a Buc is awesome, you are a classic role model for any young ones wanting to pursue this career, and you will still be here in Tampa as a superb contributer to our community, you have a beautiful family and a history of accomplishments to be proud of............good luck to you buddy................Andy Anderson
Mike -
You will always be the 'A-Train' to all of us Bucs fans!! I hope that
your neck injury heals. You have had an amazing career and we'll miss
you this year! But also know that your true fans want you to be
healthy. So, if that eventually means retirement for you, we will
always have our memories of you. Brenda Lanning Marlow

Mike, Good luck to you and your family. Your Purdue Pride has always been visible in the way you play the game. Everything you have done for the Bay area is great. My son has been at two of your camps and loved it. The game of football will be different without you. Thanks for a lot of great memories, we will all miss you.Go Bucs and Boilers! Randy and Drew Bascom.

I hope all is well with Mike.My Mom loved The Bucs. MIke is HOTTT!!! I hope he comes back next yr. He will be truly missed this yr, its gonna suck looking for #40 and him not there. I look forward to watching him play, But I wouldnt want him crippled either... Love to him and the Bucs......
Tina Baldwin
Our thoughts and prayers are with you, you will truly be missed!!!!! Michelle Cummins
Mike, I will surely miss you running the ball this year. What a loss for Tampa Bay and it's fans. I hope you stay around after you retire and keep helping the BUCs out. Afterall, no one depicts a REAL Buccaneer they way you do!Take Care!!
Lori Underberg
Mike,
I have enjoyed following you with the Buccaneers. I was not a Bucs fan when
I moved here, but watching you reminded me that there are still players who
play for the love of the sport, not just the money. I can only imagine how
hard it is to watch the team from the sidelines, but know you are still a
Buc and will always be a Buc. This town loves you and will look forward to
see what you are planning for the next quarter of your life. Thoughts and
prayers with you, April Diehl

Mike,
I have never missed a home game having had season tickets since 1987. We together enjoyed some good times at Tampa Stadium and Ray Jay, you busting your butt on the field and me drinking beer and cheering.
What is as impressive as your Hall of Fame stats is the way you treat others. Having met you twice in very informal circumstances, you were always willing to shake hands and say hello.
Take care and remember that you are with out a doubt the most popular Buc in history.
Sincerely,
Fred Foster
Mike,
We are so blessed to have a leader like you for this generation to look up to. You have taught us the value of hard work and the importance of character. We love you.
dandle22

Dear Mike: May God Bless you and your family always and Get Well Soon! The A-Train Rolls On in Bucs Fans Hearts Forever. All the best always and thanks for the memories we love our # 40.

THANK YOU MIKE FOR ALL YOU HAVE DONE FOR THE BUCCANEERS, FANS AND YOUR COMMUNITY. YOU ARE A CLASS ACT.
I STILL THINK WE'LL SEE YOU IN UNIFORM NEXT YEAR. WE ARE ALL
PRAYING FOR YOU AND YOUR FAMILY.
GOD BLESS
DEE BUCCIERO
A-TRAINNNNNNNNNNNNNNNN

Mike we wish you the best of luck. You will be missed alot. You'll always be a Buc. Are family loves you and hopes that you'll be able to come back soon.Get well soon from the Andersons of Crystal River Florida.

As a Buccneer fan, it is shameful to see how Mike has been treated. Give mike the ball!!!!!
James Ross

Dear Mike: May God Bless you and your family always and Get Well Soon! The A-Train Rolls On in Bucs Fans Hearts Forever. All the best always and thanks for the memories we love our # 40.
Medsgtcsa

Mike, so sorry to hear about your injury. You will be sorely missed this year. Take care of yourself, and hopefully we will get to see you next season as a Buccaneer. Thanks for all that you have done for the team. You have been a tremendous asset. You are the greatest!!!!!!!!
Best Wishes!
Sincerely,
Dianna Green
Number one Alstott and Bucs fan from Ashland, New Hampshire

Mike
I followed you through your years at Purdue University when you bulldozed over the competition and so on with your years at Tampa which keeps me a Tampa Bay Bucs fan. I moved to Tampa and gave up all materialistic things to go to the games and watch you play. Even when you were injured I wore your jersey to the games. Mike don't leave the game yet.
Nito 1976 Your Fan from Indiana

Hey Mike i will never forget your rookie season when you scored and handed the ball to the handicapped boy in the seats my dad and i were very touched by that. We met you at the convention center when you and Hardy Nickerson were modeling the new uniforms. I am one of the few people that have been to every game since 76 and You, Lee Roy Selmon, and Hardy Nickerson, are the best players i have seen with an honorary to james Wilder thanks for the memories and COME BACK AND PLAY!! With Garcia i think we can do some damage after a year in this offense!!
Don

My Aunt is not a packer fan she is a Buccaneer fan and she is your fan she wears your jersey she hopes u come back all well and play for your team and she say you r cute and handsome and she likes how u play and Milwaukee let her know about the Buccaneers not on the T.V. newspaper.she wants u to come back and she will always wear your jersey.
Lucy Beilke take care

Mike is one of the finest running backs that have ever worn the colors of the Tampa Bay Buccaneers.The way he is being used by our head coach is a disgrace to him and a disservice to those of us who care. Dennis Alloco

Hey Mike I am so happy to be able to tell you just how much you mean to myself and my Family. You are without a doubt are the best Back I have seen in the NFL. Knowing the way you bounced off your Injury is a big insperation to me. Because you never quit you truly are the A.Train A non stop working machine. Hope to see you back next year!!!! But if not do whats best for You and your Family The#1BucFanMan Kim Bartlett Hey Man Thanx for the Memories
Hey -
Long time BUCS fan (even the orange days) from Citrus County. I am a US Marine that has been stationed all over the U.S. During my career of 15 years so far I have maintained my BUCS fan status through good and bad. I am now stationed in Columbia SC. This past Sunday I took my family to Atlanta to watch our BUCS stomp on the Falcons. What a great day that was.... My wife took a few pictures at the game and I thought this was one that any ALSTOTT fan could appreciate. The photo is of my 6 year old son Carter and myself walking up to the Georgia Dome. Great site and would love to see my picture on here.
Respectfully,
GySgt Keith Marshall
Assistant Marine Officer Instructor
University of South Carolina, NROTC

Mr. Mike Alstott,
As a Bears fan, I have no natural affinity for the Bucs, before or after the divisional realignments. When the Bears passed on you in the draft, and didn't trade up in the second round, I thought of that every time I watched you play. And I did watch you play -- every chance I got. You have been my favorite player in the NFL every year since you left Purdue for the pros. I watched the Bears draft Anthony Thomas (good), Curtis Enis, Cedric Benson, and hoped they could, with the added benefit of a lead blocker, be a shadow of you. I hope you heal to play another year, so I can enjoy watching the Bucs again. (Ever thought of finishing your career with the Bears? Benson's big enough to block in a split back set...)
PaymonM

Hello Mike,
Wish you the best to you and your family. It has been a pleasure to witness the greatest
Buccaneer to step foot on the football field and would like to thank you for all you've done on and
of the field of play. Number 40 will always be number 1. Good luck Mike!
Alvin Rivera, Tampa

Good luck in all that you do.We will miss seeing you on the field.
Diana Fenton
Thanks Mike for all of your successful years here in Tampa ; Hopefully you can remain a Buccaneer by coaching !
Ron Sherifi
Mike, You will always be the "Ultimate Buc"!!! There will never be another like you. Good luck with everything you do.
Hopefully one day, you will be coaching here!!
Bruce Oglevie

Always liked when you got the ball. You did a great job. Enjoyed you with
the boilermakers too! Good Luck with the rest of your life!
Bill Mishler
Purdue 1976

Thank you for all the memories and good times!
Mr. Courtenay E. Marshall

Mike you are going to be SOOOOOOOOOOOOO missed.
Bud Raynor

You are a class act. Your loyalty and actions say it all. You are the best role model for any child who wants a career in sports. We will forever miss seeing you on the field but know the greatness you have will do so much more. You deserve this retirement and we wish you and your family nothing but the best.
Paul & Amy Poxson

THANK YOU SO VERY MUCH!!!!!!!! I SPOKE WITH YOU ON THE HOME SHOPPING NETWORK A FEW YEARS BACK. I WAS CAROL FROM N.J. IWAS ASKED IF I WAS A GIANTS OR JETS FAN. I AM A BUCCANEER FAN FOREVER AND ALWAYS. YOU MADE US PROUD FANS FOR WHAT YOU DID FOR THE TEAM AND FOR THE PERSON YOU ARE. GOD BLESS YOU AND YOUR FAMILY. HAVE A GREAT LIFE. I AM NOW CAROL FROM CRYSTAL RIVER,FL.

Dear Mike aka The A-Train
I think you the best ever and I will always be a die hard fan
of the Buccaneers even though your retiring... You will be missed....
Thanks, your number one fan
Candelario Campos III

Dear Mike, on the Dec. 16th game I had gotten tickets for a family(the father happens to be my ex-husband, we are best friends) whose father was on leave from Afghanistan for 10 days. He had never been to a Bucs game and I wanted it to be very special. The person I got the tickets from made arrangements for his family to go down on the field before the game. Well, my husband & my 13 yr old daughter were also going to that game. They as well got to go on the field. When they all arrived, they were told not to talk or contact anyone especially the players while they were on the field. My husband was absolutely ecstatic when you walked up to him & our friends. You actually stood next to my husband & took a picture with him. That picture is on his desk top now. The family, with 2 girls also got their picture taken with you. All of them could not express how much of a nice person you were & how down to earth you are. I want to thank you for that experience & a memory that my friends & family will not soon forget! We are going to miss you very much & wish you blessings in your endeavors. Thank you for being a part of our lives! God Bless you & your family Mike!
Bonbon042364
Mike,
Well buddy first i want to say THANK you for your many years of playing football for the Tampa Bay Buccaneers... The Buccaneers are my favorite team an have been since the early 90's... I have watched you since your days at Purdue, i'm in Ohio an i see Big Ten football each weekend... I'm just glad that the Lord gave you the chance to come play for the Buccaneers... Also i am glad you had such a GREAT career w/ the Bucs setting team records, playing in 6 Pro Bowls an winning a Super Bowl in in 02'... No one can EVER say your weren't a winner or a go getter, you played you heart out an that is what i'll miss the most... I love each an every time you had the ball handed to you... The emotion, drive an passion for wanting to get into the end zone... I have a TON of favorite moments when watching you run but one of my most favorite is the run into the end zone against the Minnesota Vikings... Up the middle came Mike hard an fast, no outlet so what did you do... You keep fighting for more an came around to the right side of the line where there were two defenders awaiting your arrival... Into the end zone you pushed yourself an BOTH of them Vikings defenders, that day is a day i won't forget... That is PASSION, FIGHT, an the DRIVE to succeed... I remember two Christmas's ago i sent you a custom figure that i made of you in your Joliet Catholic H.S. uniform... I love making these customs figures an started All Star Customs to create custom figures for anybody who is passionate about sports like i am... So i am thrilled to have made something that i do hope created happiness in remembering your days playing High School football... Then a short time when by an my wife brought me the mail an i get a hand signed thank you from you on a picture of yourself... Man i tell you Mike that is the BEST thing that could of happened to me (with the exception of shaking your hand)... I will always cherish that picture of you w/ the thank you for the figure i made for you... Thanks Mike it means the world to me... I also have a room in my home dedicated to the Tampa Bay Buccaneers, we call if the "Buc room" at our house... This houses MANY autographed helmets, player pictures, jerseys an historical things as well all dedicated to my BUCS... Well Mike i want to thank you for ALL you have done for the Tampa Bay Buccaneers an that area, i do hope you stay w/ us an do some type of coaching for the team... Because i want to be able to shake your hand one day an say thank you for taking the time to sign that picture for me... God Bless you Mike as well as your wife an two beautiful children... As a father of 3 (Austin 11, Tayler 8 an Kaley 5) so i know how precious they are to you... Thanks for your time an have a GREAT retirement...
Trevis Meseroll - All Star Customs
Mr. Alstott,
You certainly will be missed by any real football fan. I am a diehard Steelers fan, but I know I'll still miss your toughness & class. I would have given anything to see you in the black and gold, but consider myself fortunate to have seen you play at all. I once saw a video clip of you scoring a touchdown and giving the ball to a wheelchair bound person – before celebrating with your teammates! That type of example is rarely seen in the NFL these days, and you will be in the hearts of fans around the world forever. Please enjoy your retirement – you deserve it!! Take care & God bless.
Don Parker

THANK YOU MIKE!!! For being the greatest Buccaneer EVER and helping to turn this franchise around!!! May God bless you and your family richly for all you have done and continue to do! It is an honor to have you in Tampa Bay!
God Bless! John Willis

Dear Mike, I am sad to hear of your retirement, but i know that you didnt want this to happen either. I loved watching you in college and when you started playing for the Bucs i knew right away that they were my new Football team. I think that i am your #1 Fan in Pittsburg Kansas. I so glad that i was able to come see you play and you made the winning point when you went plowing through the lines of the Redskins in 2005, i was hoping to see you play one more game before your retirement. But i will always cherish the memories that i have of you on the field. I will always be a Buc Fan and forever an A-Train Fan. Good Luck in retirement!! Hope you stay in Tampa, cause i will be back for a game and hope to see you somewhere.
Love
Mandy Stevens-Pittsburg Kansas

You are the reason I love football. Going to the Bucs games will never be the same. I am very lucky that I had the opportunity to see you play, you are seriously amazing. I have a room in my house decorated in Alstott/Bucs and my desk at work is covered with your picture. I wish you all of the best in life, you deserve it!!! xoxo ~ Laurie
i love ya ..thanks for some great football.best wishes in the future...
hugs libby
Dear Mike,
I never had the honor of meeting you but I have to say you where the reason for me watching the Bucs.I will miss you as will so many others but at the same time I am glad you made the decision to retire,for you, your family and your health it is the right thing to do.I will never stop wearing my jersey for you will always be # 1.I WISH YOU THE BEST OF LUCK.
Another # 1 FAN
Rhonda
funny thing is im not really a football fan but when i saw the way you bored your way through other players while they had all they could do to hold on to you much less tackle you i was truly amazed!
mcmotorad51
I don't think that any fan can thank you enough for being a part of the Tampa Bay Buccaneers for your 12 years. To me you are truly the finest person and the best football player ever. Just to see you run on the field every game and the cheers and hand clapping of the fans was something to behold. I was part of that fan base in every home game played in both stadiums first with you in the orange and then in the Pewter. The fan whistle's that roared every time you can on and every time you did something really special. It brings tears to my eyes to think that we will never see you again as you come out of the tunnel on game day. But your life ahead of you sounds as if it is really going to wonderful. The time you will get to spend with your family and all the things that you do in the Tampa Bay area and of course your love of fishing.
Thank you so much for all that you gave to the team and to the sports. Enjoy the time with your family and love them each and every day. Maybe one of these days we will see one of your son's perhaps play football at school, college and maybe in the pro's. You will certainly be missed.
Nancy S Dixon
I am a season ticket holder and I cannot express the gratitude I have for your determination that you so heartily gave us for the last 12 years. You were brought to the Bucs the year my son was born and he at the age of 3 became a huge Alstott fan which began his love of football.
You will be sorely missed but be assured that your presence will always be felt in Raymond James.
Good luck with your future.
Cindy Johnson

Mike you are the best. I will always remember the tough runs you made. I singley remember that run against the browns. Wow i wish you the best.
Brenda Arnold

My parents taught me to be a football fan before I could talk. I'm a girl who
can name all the greats, jersey numbers, stats, fancy plays, you name it. I've
been a Bucs fan since they wore orange and made us question our sanity. I've
never enjoyed watching anyone as much as you, Mike. The HEART and spirit just
shows. You are a class act on the field and off. I hope you keep doing good for
your neighborhood...your kindness is unbelievable. But oh, how we will miss you
on Sundays!
Eilene... a local high school teacher (go Palmetto Tigers)
Yours is the only football jersey I ever asked for! My mom bought it for me
years ago...
Eileen

Mike You are the man. I just recently bought the autographed sports art illustrated print of you. It is the 24x36 print it is hanging in my dining room and will be there till the day i die! You have been my favorite player since day one. I have collected everything of yours and will hang on to them forever. We will deeply miss you on the field running over people, but more your heart and determination. WE all LOVE you brother. Hope you can be with the team in some fashion so we can keep seeing you.
tbfan4047@aol.com

Mike we wish you and your family all the best. I have enjoyed watching and supporting the Bucs here in Texas. I see so much of you in my son and the way he runs the ball. I have encouraged him to use you and your approach to the game as a role model. He has you football cards and pics in his room. Thanks for all the wonderful memories.

Post a message for Mike!
(More updates in the morning)
Pictures from the last game of the 2006 season

Alstott at the end? St. Times Article
Channel 10 interview about the website
Bradenton Herald piece on Mike and this website
Site created and owned by Dwayne Scranton